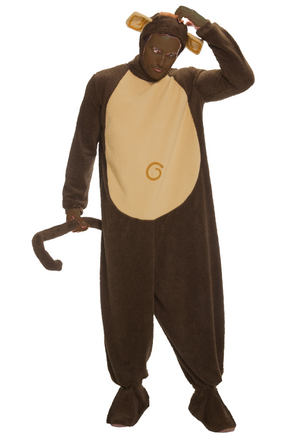 Monkey Man is regarded as the worst super hero ever, born and raised in the Amazon Rainforest, brought up by monkeys, Jamal become a Human monkey. He's got the intelligence of an angry baboon and swings around jungles using his tail and his vine whip.
Early Life
Edit
Jamal Abadoo was abandoned by his parents because he looked like a monkey so they left him with a tribe of monkeys in the Amazon Rainforest, there he was raised and became the Monkey Man.
Super Hero Work
Edit
Abadoo's career as a superhero does not go well. Jamal Abadoo saves the monkeys from lumberjacks and intruders. When they enter the forest, MonkeyMan scares them away. Once, a man was heard shouting: "MONKEY MAN IS A FAKE, HE'S NO MONKEY, HE'S SOME BLACK GUY DRESSED UP!". Despite this Monkey Man continues his work, the Daily Dick newspaper listed him as #1 Worst Superheroes ever, #1 Pointless Person and #1 People who should be dead.