Gay Rabbit Chat is a TV channel which help single Gay men from around the world find true love.
Gay Rabbit Chat has a website: http://www.rabbit-tv.com/gay/
Gay Rabbit Chat is Italy's leading chat and date TV station. It is the place to come for fun, friends and lively chat and where you can perhaps find a true partner for life.
You must be 18 or more to sign up to Gay Rabbit Chat, however, Julian was 16 when he signed up for it.
Julian is very popular on Gay Rabbit Chat, having many followers. He currently has 5,483,304+ followers on Gay Rabbit Chat. Julian still uses Gay Rabbit Chat to talk to Gays around the world, laughing, chatting and having fun, maybe meeting up and shagging without Bill knowing. Julian gets around 8,000 messages a day on Gay Rabbit Chat, with lots of fans wanting to shag him and get noticed.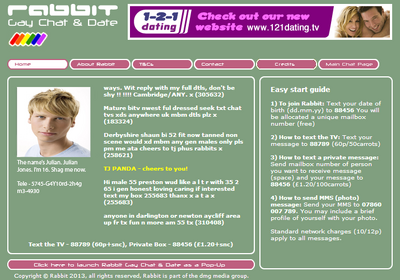 Trivia
Julian met Bill via Gay Rabbit Chat
Julian is one of the most popular accounts on Gay Rabbit Chat.