BS News was an adventure news show that took place in Minecraft, telling viewers about the new features and events going on in and around Minecraft. It ran from 2011 to 2012.
Series 2 began filming in January (unknown date), but only filmed one episode that has never been released. One of the main reasons BS News stopped was because Biffa72 stopped editing and uploading the videos, the other reason is because he got a new computer and hadn't installed Fraps or Sony Vegas.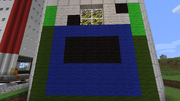 BS News was made up by blobthingguy, and the two main admins Biffa72 and Dinocodan .
BS News has revealed that Pezza42 was the main villain of Series Two of BS News but also acts as a security guard through some of the episodes.
BS News has had multiple studios in the past:
One in Cliffside
One in Ravine
One in Bluebridge.
One in Hogwarts City
One in an unnamed city (The First Studio) that was set in a snowy area, the mayor being Blobthinguy, and the BS News studio being the first building in that city.
The hosts of BS News are: blobthingguy and DinocoDan
The editor and recorder of BS News is: Biffa72